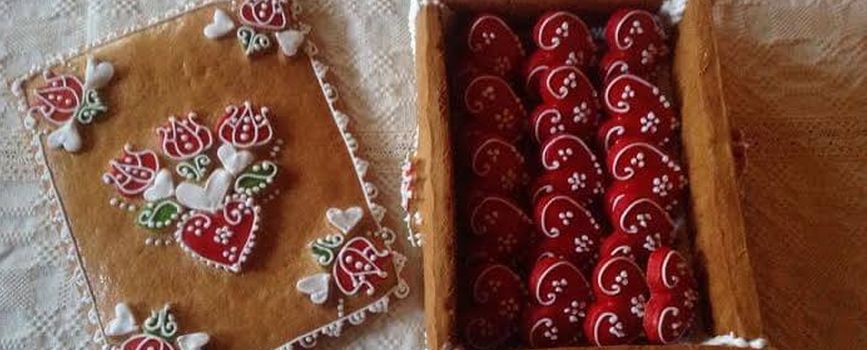 The power of the love was to help and bring her forward. The making of the gingerbread dough needs tiny, patient motions to deal with, not the hurry-scurry.
Good frosting, a plastic bag, secure hands, great feeling for aesthetics and LOVE are needed for the decoration. The last of these is the most important! If there is love, you must be sure of that the gingerbread cookies will be beautiful. - claim Angelika. (www.mezesajandek.hu)
Angelika Pantelics, a gingerbread-maker from Kapuvár, has been creating these amazing creations for nearly 7 years. She began to bake gingerbread cookies for Christmas, school events of her children and ball for the purpose of relaxation in her free-time, free from everyday's cycle. On the occasion of such an event, a teacher of her son asked to create thank you gifts for her daughter's wedding. There has been no stop point ever since. One after another found her and asked to create gingerbread decorations for different events. Her gingerbread recipe was written after long lasting experiments, partly from dusty notes lied in the cupboard and partly from her own experience. The ingredient is always the same, she varies the ratios or the method of the process at most. None of them is the love with that she makes gingerbread items.
You can give gingerbread for every occasion. Angelika prepares different ornaments for different events. For example, hearts and boxes decorated with heart pattern for Valentine-day which can hide tiny, sweet surprises. Thank-you-gift for wedding day or wedding gift for newlyweds, with these things 'many happy years' are wished to send for their marriage. Bunny adorned for Easter, gingerbread egg placed in basket. Gingerbread bouquet with names or rhyme on gift cards for Mother's Day. For graduation, birthday, as a little, thoughtful gesture. A gingerbread cradle for christening, arrival of a new family member. We can congratulate with these little things for the little newcomer and it's parents. Several flowery, folk motifs can be drawn on the gingerbread illustrating spring festivities. Floral table decorations, tulips bouquets and spring baskets can be made.
As for the gifting, the most popular season is the Christmas. Cottage, angel, church, Christmas tree ornament, garland, wall decoration, basket, Santa, nativity scene, round shapes, all of these are made of gingerbread as the sign of the love in different sizes and shapes. Last winter, she was honored when she was asked to show stuffs made of gingerbread at the exhibition of laces in the Lace House in Hegykő.
The folk artist, Mrs. Szigethy's and her laces decorated with her motifs could be visited there. Kids, dads and the old people enjoyed it very much. More of them took a seat around her and tried out the decoration of the pre-baked shapes. According to Angelika's credo: 'A gingerbread-maker has an ability for joy-creation. It can be pleasant play as well. The fact, others can get from that is a good feeling. The joy multiplies always and everywhere.' (As you can read in the local newspaper Hírös Naptár)
Her artworks can be watched under:
{youtube}FO0_tDCqi1g {/youtube}


{youtube}RmDhUV-QLoI{/youtube}