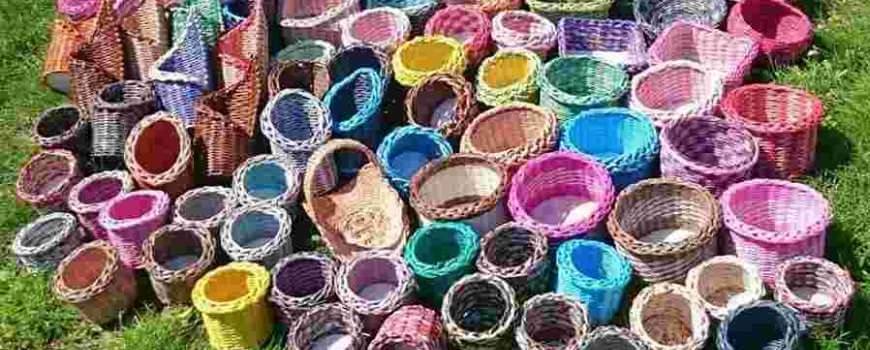 'A craft mommy is just like a normal mum, just a head and shoulders above the rest," I read before that in a newsfeed. Indeed, there is a realistic basis for this statement.
..Especially, if she performs a craftsmanship that is good for our environment as well.
Mrs. Nagy, Zsuzsanna Raczkó from Mezőkovácsháza is also a great handicraft mum, as she recycles papers to create various tools. After the birth of her little son, Marci, she would have loved to spend her free time with something useful. She looked for an activity which she could do in silence when her baby was just sleeping. She tried out the origami or decoupage technique, but she didn't find the best as an activity for herself. And then she came across the paper weaving and baskets made of newspapers on the Internet.
Before she started weaving, she had done a thorough research. She watched videos on youtube and found the group called 'Paper weaving team' on facebook. There were lots of helpful descriptions and tutorials written in Hungarian she could read through and watched. She also could read tutorials written only in Russian before and always ask the members of the team. After having practiced a lot, she dared to deliver shopping carts. At beginnings, every membership received baskets weaved by Zsuzsi for their birthdays. Many positive feedbacks resulted in creating objects from the paper for sale and the fact that she sells them in fairs too.
She wove her first basket more than two and a half years ago. Since then, a large number of containers and baskets in different colors, sizes and shapes have been sold. Even her little son, whenever he can do it, he sits next to her and watches and tries to twist the sticks.
The biggest basket she made was a 70 cm tall container for rubbish, but there was also a 70 cm tall floor vase that became a favorite in the circle of family and friends. She really loves to weave oval-shaped baskets but she has already made a document holder, a demijohn, and a container with lid, storage for game, a vase, a tray, ornaments, or even a toy airplane too. https://www.facebook.com/MarciFonodaja/?fref=ts
'Overall, I'm ready with a single basket within a week.' – tells Zsuzsi. 'Namely, I have to twist the sticks, and then paint them, let them dry, and finally twist them. The surface of the finished basket is treated with glue and varnish. So it will be really durable. In case of soaking, there is no problem because after drying it will gain back its original state. I've tried it a few times.'
How is the reaction on paper baskets among buyers? It is very variable: some have doubts about it, it is hard them to believe that these baskets are water resistant. I can hear customers more often telling that 'I am familiar with the technique' or 'I create such baskets' or 'I know some people who weave paper-based objects'. In addition, she even knows ladies who felt like weaving baskets after her works. This is a great feeling for her to meet them and they bring to show that they created. They try to get in touch, help each other by giving advice because it is no point in learning the basics if everyone will do it in a different way. Everyone has different technique and taste. In this way, the woven objects are unique and craftsman-tailored.
We can meet Zsuzsi personally and her woven baskets at fairs in Újkígyos and Tótkomlós, in every two week at the Rózsakert Market in Békéscsaba. On request, she is welcomed in other fairs too. To find her, please visit facebook page of Marci's spinnery where you can read up-to-date information.