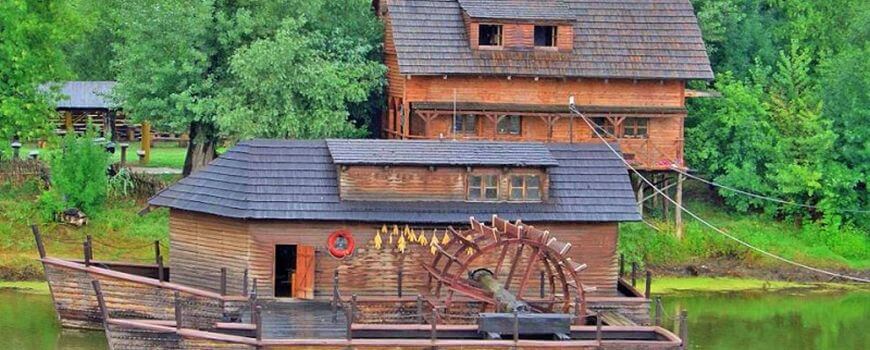 Several cultural, nature interests are unrevealed in Csallóköz. Like the watermill and also its complexity around you can find in southern part of town Gúta. The mill occupies a peninsula which the backwaters
of the river Danube; the little Danube and river Vág encompass. A complexity, whereas it is unified by an earth rampart, the remnant of the fortress of "Békevár" from 15th century, a pedestrian bridge with 86m tall wooden roof structure next to the watermill under protection of monuments and a typical flora- and fauna of the grove. Furthermore, a museum, a tavern and a petting zoo make the sights more diverse.
The boat mill is the last instance of water mills and an only remained floating mill to be visited in Slovakia. The original mill was built in 1920 and operated until 1945 when it was burnt down under mysterious circumstances. Béla Szivanyó was its owner. According to contemporary photos and former employee, Lajos Swain's descriptions, the reconstruction started at the dockyard in Komárom in the 70's. The mill moored at the location of today in May 25, 1995 and become a part of the national cultural heritage. The water mill consists of a solid structure that is placed onto parallel boats and attached to the shore. The boats are bigger than the original, since they can provide more room to accommodate visitors. During the construction, more equipment originally belong to the mill, elements and machine were integrated into. Due to the stillness of the surrounding water, the theoretically workable mill is not working, the wheels are in one place.
Long time ago, millers would grind their grain in water mills fondly by exploiting the energy of rivers and water. The water turned the wheels which set the wheels grinding grains in motion. Unfortunatly, these great works were supplant by the advancement of technology over time and steam- or motor driven mills replaced them.
A wooden pedestrian bridge with its height of 86m, which is unique in Europe too, connects the mill located on the peninsula to the shore. You can approach the memorial only through this.
The museum used to be a mill provides a historic exhibition of periodic parts and objects. You can learn more about the operation of water mills functioned at that time and the life of its workers. www.vodnymlyn.sk
The inn belongs to the mill (Krčma u Mlyna), you can find in the territory of the complexity, gives an opportunity for relaxation and refreshment after a long walk. You can taste excellent herbal liqueors here. There are zoo presenting domestic animals and petting zoo as well. The mill and its surroundings a popular tourist destination, especially the waters enthusiasts, cycling tourists, artists, nature lovers visit that. In the summer season, it is an excellent location for culture-, gastronomy-, nature-, sports-, ecocamps. In winter, the frozen river offers excellent skating oppurtunity.