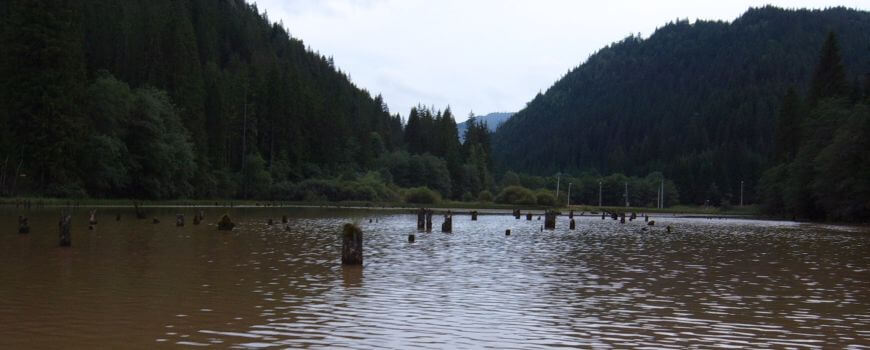 Red Lake is a unique natural rarity. It was formed after a landslide, located between the Eastern Carpathians, 26 km far from Gheorgheni. Due to rains in 1837,
the route of Lake Cohard, Licos, Rosu Piatra, Calul, Paraul Oii winding in the walley were blocked by pouring debris, so water settled and lake formed. The remains of the pine forest can be still seen, tree trunks emerge from the lake in more places and the iron oxide water preserved them. It provides the lake a unique sight in every season. Consequently, there are lots of tourists here.
The height of the Red Lake is 980 m above sea level, the depth of water is approximately 10 m in the deepest areas as well as the length of the bank is shorter than 3 km. The sediment, the major threat for the lake endowed with uparalleled beauty, will cause disappearing of the water without any human intervention. According to estimates, it will dry up by 2080. The upper part of the lake used to be as a boat-harbour but nowadays you can access it on dry foot. The refilling is tried to hinder by two dams.
You can experience several nearby plant and animal species which can be perfectly observed from the shore along the lake. In addition, the Red Lake is a hotspot for boating activities and many hiking trails start from here to the surrounding mountains and lookouts as well. The two most popular tourist destinations are the the Suhardul Mic peak and the Red Rock.