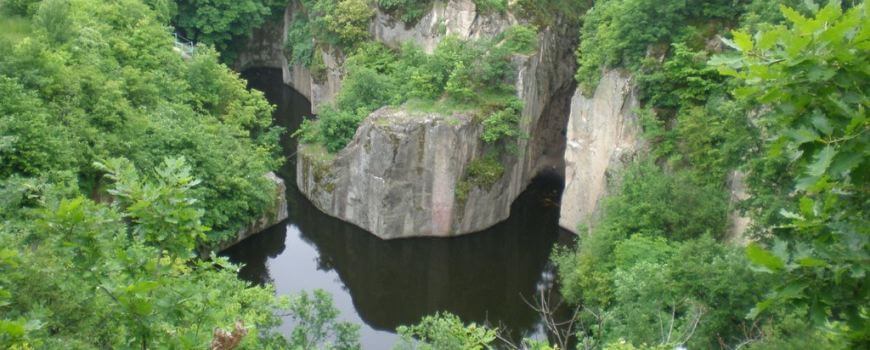 The most beautiful natural landscape in the Hungarian Zemplén Mountains is the Megyer-Hill Tengerszem. Both the human and the forces of nature played a role in its formation.
You can access this lake lie 324m high from Sárospatak and Károlyfalva through a tourist path. To follow the red markers of the path, you can reach the lake from Sárospatak. From the direction of Károlyfalva, you can access the picturesque scenery via Leisure Time Park in Mikola. Near the privately owned fish pond, you can find guarded parking. From here we can walk on along the 950 m long walking path. The field is steep but it is worth giving it a try fir the wonderful sight. The depth of the lake can reach 6,5 m in some places and the rock walls located in the circle tower about 70 m high. Easily noticeable information boards and signs placed along the path can help in orientation. If you wish to view the scenery and lake from above, you can do that safely, thanks for the round-built rails.
Miners produced the millstones used for milling grains and crushing ore from rock walls here in the 15th century. The well-machineable, solid, silicified rhyolite was an excellent base material for the millstones. The workers carved smaller cavities into the rock for themselves that facilitated them the housing. The excavation and process of stones were made by manual and traditional technics. The mine was closed in 1907 because of the fall in demand of millstones. Some semi-prepared millstones and other products of stone carving still can be seen at the former mine yard.
After the mine closing, the water from accumulated precipitations settled during years in the remained pit by forming the existing permanent lake. The 1.07-hectare area was declared a nature reserve in 1997. The Meder Hill Tengerszem can be visited by car, bicycle, on foot throughout a year.