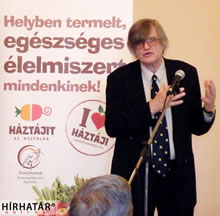 Increasing farmers' income and improving the state of health (prevention); through forming the way of living; and also with adequate qualitative meals is the soonest possible to reach favourable results. Today in Hungary the central role is in the hand of canteen meals and food distribution.
In townships and in big settlements many people have soil or cultivable territory but they do not have the right agrarian- technology to produce quality food and till now there was not any good certifying system which also offers a good market possibility.
The prescribed norm of family's healthy food raw material and child- student and workplace canteen meals can be ensured mainly by the local and landscape farming's products. By this way new workplaces are formed and also we live healthier.
In the long run that agricultural production can be maintained which aim is: 
To produce adequate quantity and high quality wholesome food and also economical, sustainable viable production;
To apply the best technologies and traditional farming which are adequate in the same time to natural and local aptitudes;
To improve the circumstances of life of farmers' and local public's.
Identical to its target to TájGazda® which started and protected in 2014 quality and certifying program with the supplement that all these are genuinely certified.
Towards safe food production there were many expensive and complicated European Union's qualifier systems developed but none of these are capable to certify the Hungarian farmers' possibilities and farming circumstances, the production of the raw material and technological processing but the TájGazda® program and certifying system is able to because when it was developed we took the aptitude of the landscape, the reliability, the easiness and cheap price as a basis.
One of the bases of the application of TájGazda® program is the integrated provincial based sustainable crop production within that incentive pest control of integrated near-natural technologies and animal farming which is based on natural forage production. The TájGazda® program within keeping the regulations and laws of agricultural and food industry concerns to vital and best cultivation and production practices which ensures that certain goods are produced by the food safety regulations, health prevention needs and by the customer's needs with extra quality. 
TájGazda® system prefers voluntary chain certification. So the quality of the raw material is based on the certification of production and animal keeping and also certifies the quality of the products with certified (TájGazda® certified) usage of raw materials and with the certification of supplied technologies. It is important to know (based on the before mentioned things) that the certification always gives guarantee for how a certain regulation (system of requirements) fixed quality and technological features were kept and implemented. Certain certification systems in food supply chain work on business level (business – to – business, B2B), on the other hand between business and customer (business – to –consumers, B2C). The TájGazda system would like to certify in both food production chain.
TájGazda® system is an online certification system which is based on farmers' regular expert and detailed farming audits which is supplemented with the farmers' yearly volunteer evaluation for example visualising the farming and production data on internet, supplying of data and field control.
Currently we give information to farmers in three counties in the South-Plain regions. Since now there were ten lectures in Kondoros, Doboz, Kecskemét, Gyomaendrőd, Nagyszénás, Csabacsűd, Mezőkovácsháza and Mezőhegyes and so on. 
The latest news is that in four Bekes county's cities the Mintamenza program is going to take in the raw material transport with TájGazda certification.
Dr. Márai Géza
c. egyetemi docens , Szent István Egyetem, Gödöllő
e-mail: This email address is being protected from spambots. You need JavaScript enabled to view it.
Csibor Géza
elnök, Veritas Kulturális Egyesület, Békés
e-mail: This email address is being protected from spambots. You need JavaScript enabled to view it.